Branscome has been paving roads in Virginia for over 60 years. We pride ourselves on being able to streamline project timelines and minimize costs for our customers – and one way we do that is by sourcing the materials needed for grading and paving projects. 
As Virginia's top paving company, we have three asphalt plants conveniently located in and around the Richmond region: Deepwater, Chesterfield County, and Doswell.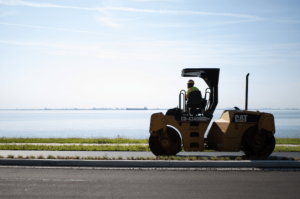 Our Deepwater plant is currently the only hot mix asphalt producer within Richmond city limits. The location of this hot mix asphalt plant allows Branscome customers to avoid traffic, tolls, and unnecessary long hauls. Each plant can produce numerous mix designs to fit custom project specifications, including specialty mixes like certified VDOT, FAA, and permeable asphalt blends. 
The Deepwater quality control lab went through a rigorous on-site, third-party review process to achieve AASHTO certification, the gold standard for laboratory accreditation in the construction industry. During the certification process, reviewers evaluated the lab's entire quality management system, including full evaluations of equipment, laboratory records, staff competency, and equipment calibration.
Existing asphalt pavement that is removed or milled for reconstruction or resurfacing, from roadways, parking lots, and driveways, is the most recycled product in the world. Millings are crushed and screened to provide a material that can be reintroduced into new hot mix asphalt production. Up to 35% RAP (Recycled Asphalt Pavement) can be added to certain blends, and currently each of our Richmond plants stores as much of this material as possible for recycling. 
Along with asphalt production, Branscome Richmond has a sand and gravel operation. The facility produces Class A sand, which is used to produce hot mix asphalt at the region's asphalt plants. This sand is also an excellent option for fine aggregate fill in various civil construction designs. Our sand and gravel operation also produces natural brownstone #3's and #4's for landscapes, as well as #57's and #78's a preferred ingredient for concrete.
We would love to talk about your project in the Richmond area. Call (757) 229-2504 or drop us a line here to get started.