Asphalt Paving Services & Highway Construction
Our asphalt is extremely cost-effective in part because of the location of our asphalt plants. Strategically located around Virginia, our asphalt plants are capable of supplying hot-mix asphalt to all of our paving crews within the region. With less distance between our plants and our job sites, we can offer you significant savings.
We know our asphalt is the highest quality, and we stand by it. Our multi-million dollar, 16-person lab constantly tests the properties in each mix of asphalt that is sent out. They check to ensure each one reaches the same high quality. Engineers also analyze multiple soil samples from each site to determine the proper formula and materials.
For true quality, each of our plants produces the specific grade of asphalt recommended by VDOT or the Federal Aviation Administration for the type of work being done. Each mix is scientifically calculated based on the type of job, be it highways, interstates, secondary roads, parking lots, airport runways, distribution centers, or shipping terminals.
Our demolition capabilities, as well as an extensive asphalt-recycling program, greatly reduce the environmental impact of our work. Annually, we recycle approximately half a million tons of old asphalt, breaking the material down and turning it into strong, smooth new parking lots and roads.
Paving Capabilities:
Asphalt paving

Roller-compacted concrete

Asphalt milling and recycling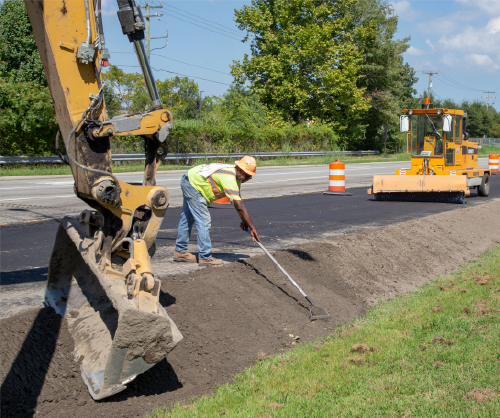 "On our current projects, which included different phases of asphalt, turning lanes, walking paths and street paving, Branscome performed all of these different phases in a timely manner with great workmanship."
Calvin Stanley
Stanley Construction Co.